G-DJET serial no 122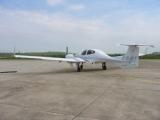 G-DJET was our first DA42, fitted with TKS De-ice; certified for flight into known icing, Stormscope, long range tanks, UK IFR requirments (ADF,DME) and all the standard features like the Garmin G1000 integrated flight deck. Since then we have added G-PETS (currently being upgraded with the Austro AE300 engines in Austria) and have recently added G-DSKY, another identical triplet to the other two. Check out this plane's performance data and weight and balance for more details.
G-DJET replaces our Diamond Aircraft DA40-180 G-MOPB which is now enjoying its retirement in Spain.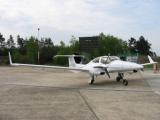 Normally based at Durham Tees Valley, G-DJET is available for rental and fractional ownership operations.
For protracted rental periods we are happy to relocate the aircraft elswhere.
Delivered in May 2006, and ferried by ourselves from the factory in Austria, G-DJET performs just as the POH states.
Our second DA42, G-PETS is also available, normally based in and around the Midlands.
Our third DA42, is expected in the summer of 2010, she will be based at Durham Tees Valley also.