The Diamond DA42 TwinStar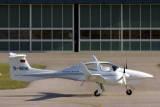 Superlatives abound for this, the first new twin engine piston aircraft in over 30 years!
Fly fast with the confidence of a twin for the same cost as a single. Go direct over water or rugged terrain, and cover great distances without the need to refuel.
The world's first and only piston aircraft with an advanced airframe, avionics and engines gives you options like you've never had before.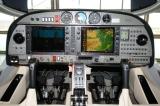 Seriously capable and fully IFR equipped with the Garmin G1000 and known ice protection. Go where you want, when you want - fast, and for less
With its modern carbon composite airframe, twin jet fuel burning TAE Centurion 1.7 turbo-diesel engines and the fully integrated Garmin G1000 glass flight deck, the DA42 Twin Star is the undisputed technology leader in its class.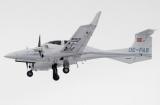 Capable of carrying four people and their luggage over 1000 miles at speeds in excess of 200mph, flying at up to 18,000 feet at night, in bad weather and in known icing conditions; the DA42 Twin Star is a 21st Century Aircraft for a 21st Century world!
The DA42 can fly into the largest airports and also operate from small grass airfields meaning that many more places are easily accessible than with traditional aircraft.
Obviously wet soft grass is not a good idea for a retractable with small high pressure tyres, in summer these issues tend to be less significant.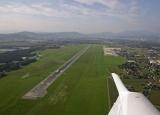 Go far – fast – or throttle back and go VERY far. The extreme fuel efficiency at part throttle means that typical flights with one stop become non-stop flights. This efficiency gives you more options (range and endurance) if your destination shuts down.
Added to the ability to operate in known icing conditions, the DA42 gives pilots valuable options when things start to turn ugly.
Like all known icing systems it does have limitations primarilly in teh case of TKS systems endurance as it uses de-ice fluid, at the rate of upto 30 litres in 45 minutes!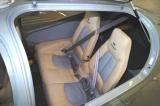 The interior of the Twin Star rivals that of a luxury car – leather seats and a spacious comfortable cabin give you and your passengers a relaxing, enjoyable ride.
The large 4 way rear baggage compartment (45kg load) is complemented by the generous nose baggage area (30kg load) that is large enough to carry two sets of golf clubs or a number of soft bags.
Weight and balance can be usually factored quite easily within acceptable parameters.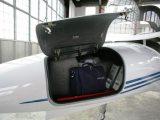 The simple operation, smoothness and quietness of the powerplants results in significantly reduced pilot fatigue.
The FADEC controlled engines take the guesswork out of proper powerplant management. The dual power levers offer jet-like thrust control and easy single engine procedures. With controlled liquid cooling and Vne landing gear extension speeds, high speed descents become routine.