When its better NOT to fly! Here are our recommendations
Much as we advocate flying, put simply there are times when its not the right thing! It may be unnecessarily expensive, it may be unreliable, it may even be dangerous!
There are times when its better not to fly, here are some of the times and why!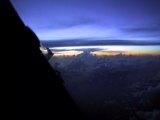 Night time in winter: If you need to start and finish a journey in the dark in the winter, then we generally advise you to fly scheduled or seek alternative forms of transport. The accident record is poor for aircraft trying to find small airfields in the dark, especially ones that you not familiar with. We are happy to fly you to large airfields but that may reduce the utility value of our offering. We would rather you arrive safely! As usual happy to advise what dark and what small airfield means!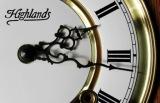 When you must get there on time: If you need to get somewhere, guaranteed on time, then either set off very early in your car or take a trip the day before! The reliability and availability of our dispatch record is very good, however there are many things than conspire to either prevent or slow down your expected arrival in a plane. Fog may limit your take of time or arrival time. The plane may develop a fault on start-up which means that the flight has to be terminated. (That's why we do the pre-take of checks!) A plane or other incident may close an airport. Weather is notoriously fickle and if you are going to airfield without Instrument landing facilities the weather may be too poor to allow an arrival, in which case we will divert to the nearest suitable airport but that may be 20 miles away! In the last years we have never cancelled a trip but we have arrived up to 30 minutes late.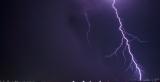 When the weather is bad: One persons definition of bad weather may be surprisingly different from another's. In aviation terms the weather is bad when one or more of these phenomenon are expected at departure, arrival or en route: Thunderstorms, Freezing Rain, Severe Turbulence, Snow, Icing, Hail, Wind Shear or Fog. In most of these cases the passengers will be very uncomfortable long before the plane become uncomfortable. In practical terms we strongly encourage clients only to fly in benign conditions. When the weather is bad, any plane, but especially a small plane can feel like the worst place on earth. Having said that , all our pilots have flown in weather conditions far worst than most people, and are capable of taking the punishment, as is the aircraft. We value your custom so again please discuss the details with you. My mother in law doesn't bat an eyelid but my wife breaks out in a panic attack if there is a slight jolt!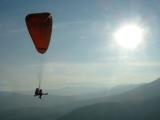 When you have to carry large or heavy items: Almost all planes struggle to compete with white van man when it comes to space and weight capabilities. If you need to carry something the size of a fridge then hire a van, sitback and enjoy the drive!
When cost is everything: We pride ourselves on providing the best aircraft, the best service and the best value. Operating a small state of the art aircraft is an expensive proposition.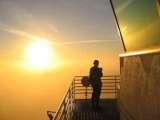 The aircraft unlike a Ryan Air jet, spends 95% of its time on the ground gathering dust. The cost of training, paperwork, servicing and insurance are equal to the cost of running a small airline! The net result is that private flying is not cheap and will never compare in price to bucket shop tickets and special offers on trains or planes. Out profit margins typically run at less than 5% assuming nothing goes wrong! If you are a regular customer or want a package price to take the uncertainty out of a deal we can certainly do it. However don't ask for a discount as a smack in the face may offend!